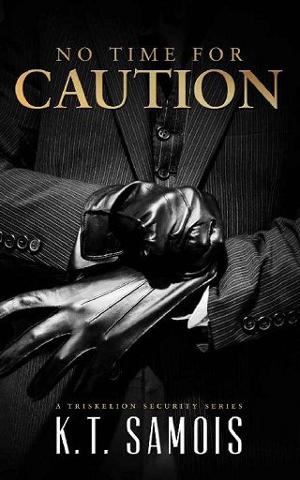 Riona Araby is an actuary with a well-connected family, an active imagination, a dirty book tucked under her pillow, and a secret desire to meet Master Right. Captain Hardin, once of the US Naval Special Warfare Development Group and now of no fixed address, has blood on his hands, and a price on his head. On the run from one of the world's most dangerous oligarchs, the Captain has few allies, many enemies, and no options. To make matters worse, his flight's been delayed.

When a chance meeting with a handsome stranger in the airport sparks the affair of a lifetime, Riona soon realizes her attraction to this dangerous man may cost everything she's willing to give… and more. As Hardin's past and Riona's future collide, they'll quickly learn that in life — and love — there's no time for caution.

Warnings: action/violence, offscreen torture

Category: M/F
No Time for Caution is an action packed D/s romance novel that reads like a movie, full of suspense and intrigue and witty character interactions. It follows a mercenary named Hardin with a sordid past and an ex-lover after his life, and Riona, an airport coffee shop waitress just waiting for love. Everything you want in a suspense thriller with some D/s on the side, this is a memorable and fast paced book that balances a variety of tones and characters. I was given a free copy for review purposes, all opinions here are my own and completely impartial.
WRITING
The story moves at a clipped pace that feels very in the moment. Told mostly from Riona's perspective and in the present tense, the story starts moving and keeps moving, building character interactions upon character interactions upon action and hit-man intrigue. As I mentioned, this reads like it wants to be a movie, an action packed summer blockbuster that'll give both Fifty Shades of Grey and the Fast and the Furious a run for their money. Blending a few different genres, it is a whirlwind ride of sexy romance and fantasy action. The beginning of the book starts us with the flirtatious stages of new relationship, but by the end of the book we are treated to high-speed edge of your seat thrills. It keeps the tone light and upbeat throughout, and though the plot can feel like it lags a little in the middle portions, the vibrancy of its characters does much to carry it through.
EMOTIONAL ENGAGEMENT
For me the strongest element of this book is in its character interactions. It has a large cast that all interact in such vibrant ways. The authors have a real way of writing dialogue that feels alive and organic, and the book is very dialogue heavy. Each character is charming, from Riona's large family to Hardin's band of merry mercenaries. The villains, too, are over the top and psychotic enough to rival classic action film villains, and that was extremely fun and engaging. I loved J a lot, and enjoyed the way she menaced her way across the page, chewing up the scenery and dominating every single scene she was in. I do wish that there had been more exploration of backstory and driving motivational forces in both Riona and Hardin- we know details but are less familiar with the emotional experiences and it feels like there could have been a lot more to explore in that department. I also would adore an entire spinoff just on J, but that's just my own wishlist.

WORLDBUILDING
I really love how the plot is set up in this world full of fantasy fodder. It's a world full of rich and affluent characters, most of them women, who all take no shit and get things done, and this applies to both villains and protagonists alike. There's a veneer of wish fulfillment in the scenery the story plays out over; filthy rich families with lots of power under the surface of society, underground crime rings and military organizations, all coming together to form an over the top picture of wealth and excitement. However, there's still a lot here that is more down to earth; I loved the depiction of the drudgery of customer service work (In an effort to exercise independence, Riona works at a coffee shop) and I especially enjoyed the fact that Riona is religious, which is not something that adult or kink novels often assign their characters, and it made her feel more nuanced.
STEAMINESS
The connection between the two leads is rather beautifully built, so despite that the sexual scenes are few and brief, the sexual tension and flirtatious atmosphere of the narrative is wonderfully fun and fleshed out. It's especially refreshing to see this kind of push and pull, from flirting to dating to discussions of boundaries to moments of intimacy and spice. Riona is a virgin who wants to save sex for marriage, and Hardin is a Dom who is willing to nurture this connection within the boundaries Riona has set. It's a lovely depiction of healthy, respectful D/s, and Riona is in the driver's seat for the entire duration, despite being the submissive in the equation. It's a treat to see such a lovely connection and authentic affection in a D/s story, and the sex scenes are no exception; they are full of the same playful exuberance that permeates the rest of the couple's interactions.
If you're looking for an action adventure ride that also includes a D/s romance with fantastic kink representation and sweet character connection, this is the book for you. No Time for Caution is fast, it's flashy, and it's full of charming wit and permeated with an upbeat playfulness. The characters spring off the page; it's a ride that is loads of fun. I can only hope to one day see it in theaters.
Have you read No Time for Caution? Let me know what YOU thought by leaving me a comment!